Disavow tells us more about Half Empty, touring and themselves.
One week to go and Disavow is hitting the road again. This tour is taking these guys from Gothenburg to Germany, Czech Republic and Austria.
Epidemic Records released their 7″ called "Half Empty" last September, a six-track blast for fans of… hardcore punk!
Special guests on the record: Derek Archambault (Defeater) and Fredrik Larzon (Millencolin), to complete one of the wildest EP that came out of the European Hardcore Punk scene in 2017.
Let's see what they have to say about it, about touring and about the band. Don't miss them on tour and make sure to buy a copy of their 7″ at their shows or here at this links:
Spotify: https://goo.gl/K1aBjZ
Itunes: https://goo.gl/mzg25t
Vinyl: https://goo.gl/ZEvbgb
How did Disavow start? Have you guys played music together before?
Anton: Mattias got in touch with me shortly after the end of Anchor and asked me if I would be into flexing out a project he started earlier that same year. We met and jammed on a few ideas. After that rehearsal we asked Robin, who I known since my first Europe tour, if he wanted to join up.
Next rehearsal we scraped the old and started in a new direction. In two hours our demo was written and the week after we got together again and recorded it. The three of us had never played together as a group but had been stand in's in each others bands before so the chemistry wasn't that hard to find.
When the time came to play our first show we asked Eli to play guitar and that's how Disavow came to be a complete unite.

Half Empty came out last September. What's the response so far? What's the nicest thing you've heard about that 7"?
The response have been very positive! I think we all where a bit surprised even though we knew we've written a great record.
The best thing I've heard about the EP so far is that it is as cold and as hard as a concrete floor!
How did you end up working with Derek (Defeater) and Larzon (Millencolin) on this debut 7"?
Mattias has been in the touring world for over a decade know so the short version is that he just knows people from all over I guess. They both were really excited to be a part of the songs which was great!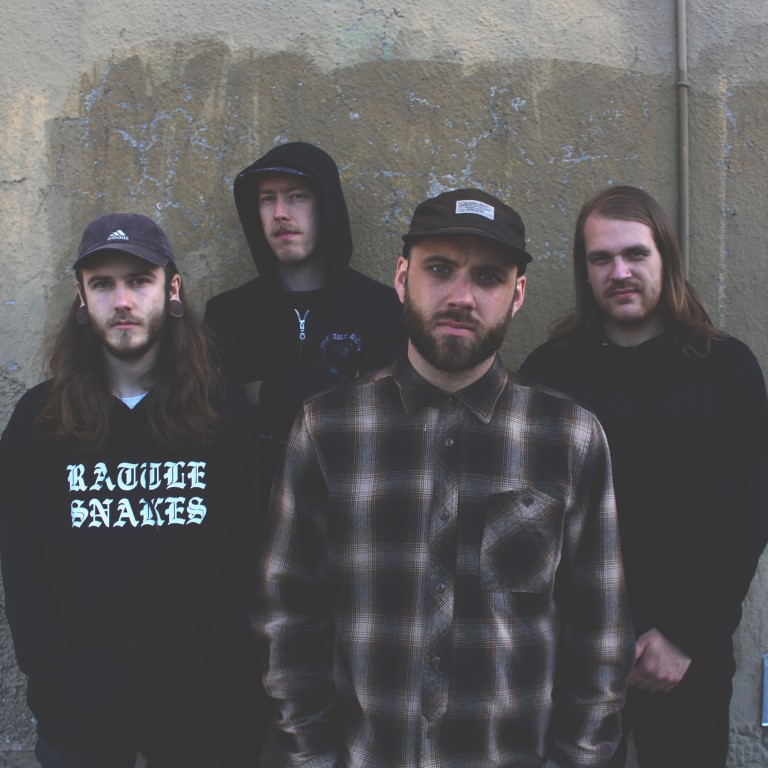 You've been playing quite a lot of shows now and you've already toured Europe. What's the main difference between Sweden and the other places you've played?
In Sweden we're almost always playing front of friends which creates a different atmosphere to the other shows where there are more new faces!
You're about to embark on another tour, which is going to be at the end of the year / beginning of 2018. Where are you going to play and what do you expect?
We're playing Kiel, Essen, Berlin, Prague, Vienna and Erlangen with one more date to fill. Our expectations are that we'll have a great time getting in people faces and then see if they either love it or hate it!

What's next for Disavow?
Keep on doing intense and raw shows that makes everything else look bleak in comprehension and continue to spit out hardcore punk bangers!

Anything you want to tell to the people reading this?
Come out to a show and wave your first, mosh and stage dive with us! And of course, if you haven't already, check out our EP 'Half Empty'!
TOUR DATES AND INFO:
29 December: Kiel
30 December: Essen
31 December: Berlin
1 January: NEED HELP!
2 January: Prague
3 January: Vienna
4 January: Erlangen
Band Info: www.facebook.com/disavowhardcore
www.epidemicrecords.net