Epidemic Records welcomes Swedish Crust / Metal Punks FREDAG DEN 13:E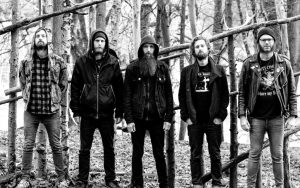 The Scandicrust institution known as Fredag den 13:e was formed in Gothenburg/Sweden back in 2006.
The five guys had met through local punk shows and decided to combine the raw power of Swedish punk acts like Anti Cimex and Mob47 with the rock n roll feel of Poison Idea and Motörhead. After the first 7" was released in 2007 the band have to this day released three full length albums – 'Under Iskalla Fanor' (2010), 'Tjugohundratretton' (2013) and 'Domedagar' (2015). The most recent album received numerous of great reviews and were nominated for best Swedish punk/hardcore album at Manifestgalan in Stockholm, 2016. The band have also released two split 7", participated on various compilations and toured all over Europe,  for more than ten years. They have supported legendary Swedish bands like Entombed and Wolfbrigade, as well as fellow contemporary acts like Victims and Totalt Jävla Mörker.
After ten years in Fredag den 13:e, former lead singer Anders decided to leave the band in 2016. He gave his thoughts on the exit in an interview the very same year: "D.I.Y-premisses have taken us to places and people, which I never would have seen or met without the band. During the years we have also developed a sound that I'm very proud of. The core has always been driven d-beat, but our influences very various. Along with that we have, at least in my opinion, always managed to put our own edge to it."
The new vocalist G, formerly in bands like Dead Vows and Painted Wolves, joined the band in 2016 and started touring right away. At the very same time the band started writing music for a new album that was recorded in the winter of 2017 with Icos/Monachus-guitarist Oscar Karlsson behind the production. "I think this period of songwriting is the most productive one we have ever had", lead guitarist Jacob explains. "We had so much ideas that we for the first time actually could save some songs from the recording session, and we still have like 20 riffs for another album. And they are all killers!"
The new album 'Dystopisk Utsikt' contains 11 fierce tracks in the same style as their previous albums – the mix of riffs hailing from the last 30 years of rock music. In the opening track 'Plågad Av Ljuset' you will hear fragments of the Gothenburg death sound made famous by At The Gates, followed by raging d-beat in '1984′. The rock n roll-feel of Poison Idea hits the listener in 'Av Skuld Och Skam' and the HC-breakdowns are lined up in 'Dödad Av Tid'. You will also hear fragments of Scandinavian black metal in riffs like 'Orsak Föder Orsak'. Lead singer G explains the idea behind the lyrics on the album: "The lyrics are not thematic like on their last album 'Domedagar' where the leitmotif was the end of the world, but on "Dystopisk Utsikt" (which means 'Dystopian View') most of the lyrics involves the disgust towards religion, fascism and oppression that have risen all over the world during 16/17. Songs like 'Fängslad Mentalt', which translates 'Mentally Imprisoned', is about the constant fears living as a refugee and 'Är Du Hora Eller Gud?' ('Are You A Whore Or God?) about sexual harassments that was made public by the #metoo movement."
The release is a co-op between Alerta Antifascista (Germany), Halvfabrikat (Sweden), Deviance (France), Epidemic (Italy) and EveryDayHate (Poland) and is released on 200 limited edition gatefold-LP with poster, 800 black gatefold-LP, CD and digital download. The album will also be available on all streaming sites in June 2018.
Idioteq.com revelaed 'Plågad Av Ljuset', first single out of the album, which you can listen at this link: https://goo.gl/ms3h38